Posted By freeproject on August 21, 2015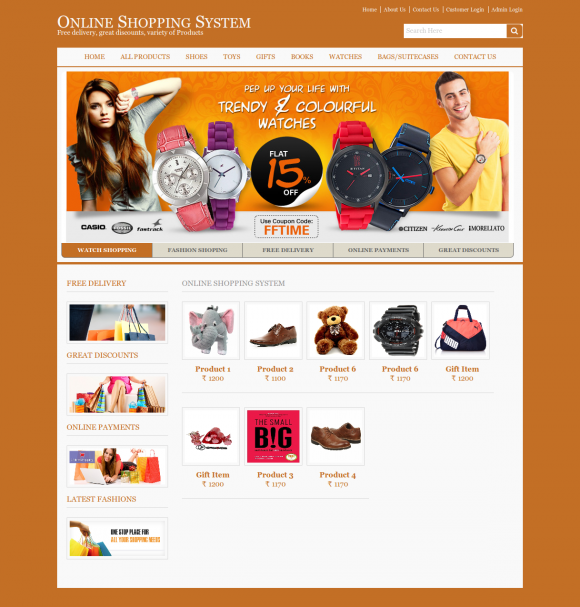 Java, JSP and MySQL Project on Online Shoping System
We have developed this project on Java, JSP and MySQL Platform and it runs over the Tomcat Server. Our website Freeprojectz.com provides many types of easy java projects to be developed as the final year college project for students. Students can download online java projects based on their requirements. The main objective for developing this project was to create an Online E-Commerce Platform to sell various type of products to end customer. This project provides a lot of features to manage the products in very well manner. This project contains a lot of advance modules which makes the back end system very powerful. In current system, we have integrated a single payment system Cash on delivery but in future we will enhance it with online payment system. Here students can get java software projects with source code free download. Student can find all the java projects with source code and database download.
I have attached the Screens and demo of the project below the description. Look into for more details.
Users of Online Shopping System
There are two type of users available in the project (Online Shoping System) :
Employee : With Limited Access
Admin : With full access
Functionality performed by Employee user:
These are the functionality performed by the Employee users.
Customer Registration Functionality

Login For Customer
Change Password for Customer
Edit Profile For Customer
Forgot Password for customer
Registration for Customer

Shopping Cart Functionality

Add Products to Shopping Cart
Listing of all products of Shopping Cart for a customer
Remove products from the shopping cart
Manage Shipments/Payments
Adding Shipment and Payment Details
Add Sample/Normal Credit Card Details (Not Real)
Make the payments
Manage Orders
View all the orders
View all the product of orders
Shopping Experience
Filter Products According to the category
View all the details of the product
Add To Cart functionality for adding product to shopping cart
Filter Products according to manufacture and company
Functionality performed by Admin user:
These are the functionality performed by the admin users.
Login For Admin
Forgot password for Admin
Edit Profile For Admin
Manage Customer

Adding New Customer
Edit the Exiting Customer
View Profile of the Customer
Listing of all Customer

Manage Products

Add Products
View Details of the Products
Listing of all Products
Filter Products according to Company

Manage Products Company/Manufacturer

Add Manufacturer for the Products
Listing of the Manufacturer
Filter Manufacturer

Manage Orders

Listing of the Orders
Filter Orders according to Customer
Change the status of the orders

Manage Shipments

Listing of the Shipments
Change the status of the Shipments

Reports of the project online shopping

Report of all Products
Report of all Customers
Report of all Orders
Report of all Shipments
Report of all Products Manufacturer/Company
Static Pages and other sections :
These static pages will be available in project
Home Page with good UI
Home Page will contain an animated slider for images banner
About us page will be available which will describe about the project
Contact us page will be available in the project
Technology Used in the project (Online Shoes Shoping)
We have developed this project using the below technology
HTML : Page layout has been designed in HTML
CSS : CSS has been used for all the desigining part
JavaScript : All the validation task and animations has been developed by JavaScript
JSP : All the front end logic has been written in JSP
Java : All the bussiness logic has been written in Java
MySQL : MySQL database has been used as database for the project
Tomcat : Project will be run over the Tomcat server
Supported Operating System
We can configure this project on following operating system.
Windows : This project can easily be configured on windows operating system. For running this project on Windows system, you will have to install Tomcat 7, JDK 7, MySQL 5.
Linux : We can run this project also on all versions of Linux operating system
Mac : We can also easily configured this project on Mac operating system.