Marriage Hall Booking System Project - Download Project Source Code and Database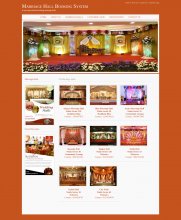 Posted By freeproject on Monday, September 9, 2019 - 14:31
Java, JSP and MySQL Project on Marriage Hall Booking System
Static Pages and other sections :
These static pages will be available in project Marriage Hall Booking System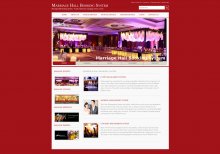 Posted By freeproject on Saturday, January 27, 2018 - 13:15
This project Marriage Hall Booking System has been developed on Java, JSP and MySQL. We are providing java software projects with source code for student purpose. The main purpose for developing this major java project Marriage Hall Booking System is to manage the details of Inventory, Customers, Marriage Hall, Booking. It manages all the information about Inventory, Payment, Booking. This Marriage Hall Booking System Project in Java is totally built at administrative end and thus only the administrator is guaranteed the access. The purpose of the project is to build an application program to reduce the manual work for managing the Inventory, Customers, Payment, Marriage Hall. It tracks all the details about the Marriage Hall, Booking Dates, Booking. Here students can get java and jsp projects with source code free download for students.