Train Enquiry System System Project - Download Project Source Code and Database
We are providing latest android app project ideas for final year engineering students. These are innovative android app projects to be developed as final year educational projects. Students can find latest academic project topics in android here. Our website Freeprojectz.com provides a variety of android mobile application topics for project to be developed as final year project for students. These projects have been researched and updated here for students to implement and use. Android platform has grown exponentially in terms of size and technology in the past years. Android is used for standalone as well as server based hybrid mobile phone system implementation. So here we provide a best collection of android project synopsis free download including source code and database. Student can easily download these academic android projects can be used as a final year academic projects for students in BTech, MTech, BCA, MCA. These android projects are for students those who want to learn andirod. Our website Freeprojectz.com are helpful for Btech, MTech, BCA, MCA, BSC-IT students get android projects with source code and database. Here We are providing android development projects for student requirements. There are given a lot of free android projects. Projects have included functional requirement, nonfunctional requirement etc. Here student can get easily android mini project free download.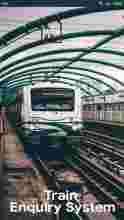 Posted By freeproject on Saturday, March 24, 2018 - 12:49
The Project Train Enquiry System has been developed on API Based and Android and its a android programming projects for students. The main aim for developing this Train Enquiry System android project where user can login their account using their username and password and after the login user enter train name, number and station details and user here can get enquiry about train. Students can easily search and find android projects for students with source code.