C++ Projects - Download Project Source Code and Database
C++ language provides many features with respect to C language. Most interesting features of the C language is that its supports object oriented programming. Our website Freeprojectz.com provides many C++ mini projects with source code for students purpose. Students can use these projects as educational school projects for 12th class CBSE and college mini projects for BCA, MCA. These projects are very simple, we can use and develop for school level projects or start college-level academic projects.
C++ projects are very useful for those students who want to learn C++ language and develop C++ file handling. These projects have basic and easy interface, some uses other for UI. Here student can search and find download the collection of mini projects in c++ projects with full source code and execute file. Students get complete and error-free c++ projects in our website Freeprojectz.com. A student can easily download these projects and learn C++ projects. Free download C++ projects with source code and fully working.
Download C++ Projects for BCA, MCA, CIC, PGDCA, 12th Class CBSE with source code, documentation and synopsis. These projects are free of cost. You can download these c++ projects total free of cost and modify it according to your need. You can submit it for your CBSE Project, BCA, MCA and etc.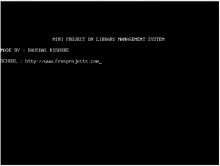 Posted By freeproject on Thursday, June 25, 2015 - 18:16
Library management system is a project which aims in developing a computerized system to maintain all the daily work of library .This project has many features which are generally not availiable in normal library management systems like facility of user login and a facility of teachers login .It also has a facility of admin login through which the admin can monitor the whole system .It also has facility of an online notice board where teachers can student can put up information about workshops or seminars being held in our colleges or nearby colleges and librarian after proper verification from the concerned institution organizing the seminar can add it to the notice board . It has also a facility where student after logging in their accounts can see list of books issued and its issue date and return date and also the students can request the librarian to add new books by filling the book request form.