Airlines Information System Project - Download Project Source Code and Database
The main aim of this Project on Airline Information System is to manage the details of Passenger Reservation, Booking Enquiry, Airlines Booking, Employee, Airline Enquiry. It manages all the information about Passenger Reservation, Ticket Booking, Airline Enquiry, Passenger Reservation. It tracks all the details about the Airlines Booking, Employee, Airline Enquiry. In this project mainly concentrate on ticket booking function, this function will take the user inputs like their requirements name, Airline source & destination, Number of seats, Seat numbers, after entering all of students requirements in this application, it can check at back end & provide us the total information about Airlines. Here we are providing academic projects for students in any programming language like PHP, Java, C# etc. We provide full php online projects with source code. This project with source code for educational learning and submission in college. Here students can search python web application projects topic and get easily download python projects with source code. We have many good collections of projects for beginners with source code, database, and documentation. This Airline Information System project is suitable for BCA, MCA, BTECH, MTECH. We can develop best java software projects code for students who want to use java projects for learning.Here student can search and c# programming projects with full source code.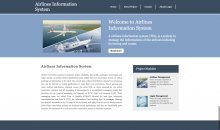 Posted By freeproject on Wednesday, June 27, 2018 - 12:24
This mini project Airlines Information System has been developed on Django, Python and MySQL. We are providing mini project topics in python and also mini projects in python with source code. Here students can get python projects with source code free download. There is a single user admin in this mini python project Airlines Information System. The admin can manage all the information related Airlines after the login and after login admin can also edit, delete and update airlines name details, airlines numbers, airlines seat details and Airlines types details. The main objective for developing this mini python project Airlines Information System is to provides information about Airlines. Student can download free python mysql academic college projects with source code database and documentation. Students can easily search and find python source code projects here.