Exam Seating Arrangement System Project - Download Project Source Code and Database
Subscribe our YouTube channel for latest project videos and tutorials Click Here

As the number of students is increasing day by day, the seating arrangement is becoming is a complex issue. No doubt it is a serious concern for the persons who are responsible for seating arrangement.
Exam Seating Arrangement System php online projects is an automated system that works with computer algorithms to devise a seating plan for examination centers. Exam Seating Arrangement System Project plays a key role in minimizing human strain and errors when it comes to seat arrangement. Moreover, it will be instrumental in saving time and improving exam procedures. Other advantages of Exam Seating Arrangement System Major Project are as follows.
Simplify seating arrangement
Reduce complexities of arrangement
Save a lot of time
Reduce human errors
Data consistency
Easy information refreshing
Backup information
The Exam Seating Arrangement System Final Year Project will remove all complexities involved in seating arrangement as it automatically process the input and devise an arrangement depending upon the hall capacity. Exam Seating Arrangement System college Project works by maintaining student records, staff details, and exam center details. Afterwards the stored information is processed and students & faculty is allocated in the specified halls.
Exam Seating Arrangement System Project also keeps record of the number of students to be allocated in the particular rooms and the room's capacity. It helps the staff by reducing manual seating arrangement. In short, it is a great application that can efficiently devise a seating plan automatically. It can be further customized to work for large or small educational institutions.
Latest Exam Seating Arrangement System Project Source Code and Database
All Exam Seating Arrangement System Project Topics Project Source Code Download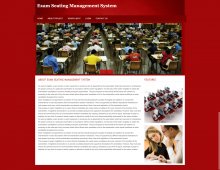 Posted By freeproject on Saturday, April 27, 2019 - 23:44
PHP and MySQL Project on Examination Seating Arrangement System I have attached the Screens and demo of the project below the description. Look into for more details Modules and Description of Examination Seating Arrangement System Project: Assign Seat Module : The main objective for developing this module is to manage the assign seat. This Assign Seat module is an important module in...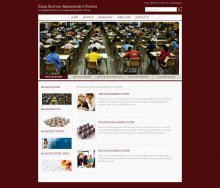 Posted By freeproject on Monday, April 11, 2016 - 16:14
Java, JSP and MySQL Project on Exam Seating Arrangement System We have developed this project Exam Seating Arrangement System on Java, JSP and MySQL Platform and it runs over the Tomcat Server. Our website Freeprojectz.com provides many types of easy java projects to be developed as the final year college project for students. Students can download online java projects based on their...