Posted By freeproject on October 3, 2017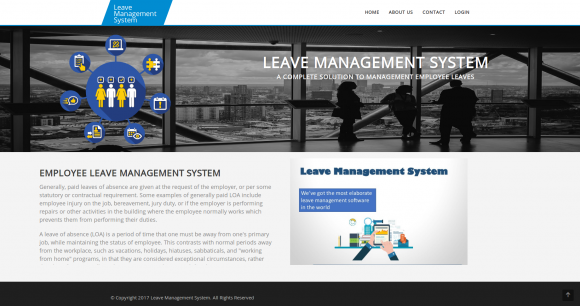 AngularJS, PHP and MySQL Project on Leave Management System
This project Leave Management System has been developed on AngularJS, PHP and MySQL database. The main purpose for developing this project is to manage employee absence and calculate leave accruals. This project will track the no of leaves taken by the employees of company. This system tracks leaves and the leave balance automatically updated. Student can customize this project according to requirement or company policy. This system automated leave management software is very easy to use and it will save your time and it will increase the efficiency. This system have many good features like notification of email, leave cancellation, automated leave approval and report generation based on the requested data by the user.
Functionality performed by Admin user:
These are the functionality performed by the admin users.
Login For Admin
Forgot password for Admin
Edit Profile For Admin
Change Password For Admin
Logout Functionality
Dashboard for Admin User
Manage Employee

Adding New Employee
Edit the Exiting Employee
View details of the Employee
Listing of all Employee

Manage Leave

Adding New Leave
Edit the Exiting Leave
View details of the Leave
Listing of all Leave

Manage Leave Status

Adding New Leave Status
Edit the Exiting Leave Status
View details of the Leave Status
Listing of all Leave Status

Manage Leave Type

Adding New Leave Type
Edit the Exiting Leave Type
View details of the Leave Type
Listing of all Leave Type

Reports of the project Leave Management System

Report of all Employees
Report of all Leaves
Report of all Leaves Status
Report of all Leave Types
Synopsis Buy Now:
Synopsis of Leave Management System