Posted By freeproject on September 4, 2017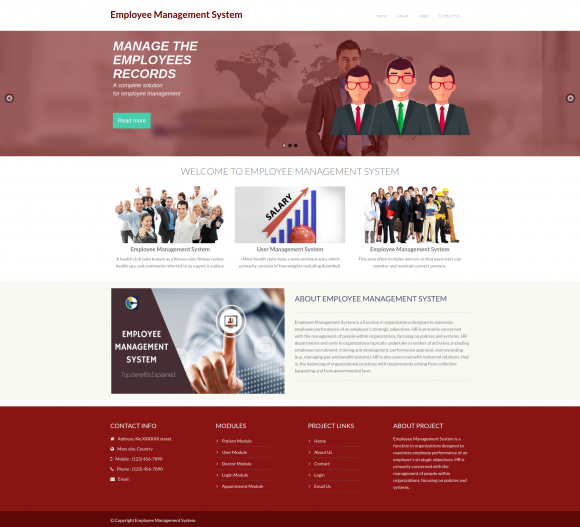 Python, Django and MySQL Project on Employee Management System
This project Employee Management System has been developed on Python, Django and MySQL. The main purpose for developing this project is to provide all the details of online to many types of work related employees. This project can help for the employer to contain all the records of employee payroll and salary features online. This project Intends different types of forms. It can also manage employees personal details, family details and company details. This project provides a lot of features to manage in very well manner. This project contains a lot of advance modules which makes the back end system very powerful. There are two types of users available in the project, first one is Employee and second one is Admin. Employee user have limited access right to access the system, while the admin users have full control over the system.
Functionality performed by admin user:
These are the functionality performed by the admin users.
Login For Admin
Forgot password for Admin
Edit Profile For Admin
Manage Employee

Adding New Employee
Edit the Exiting Employee
View Profile of the Employee
Listing of all Employee

Manage Apprasail

Add Salary of the Apprasail
View Details of the Apprasail
Listing of all Apprasail
Filter Salary according to Apprasail

Manage Department

Add Timesheet for the Department
Listing of the Department
Filter Timesheet according to Department

Manage Leave

Add Leave for the Leave
Listing of the Leave
Filter Leave according to Leave
Approve/Disapprove Leave

Manage Project

Add Leave for the Project
Listing of the Project
Filter Leave according to Project
Approve/Disapprove Project

Manage Salary

Add Leave for the Salary
Listing of the Salary
Filter Leave according to Salary
Approve/Disapprove Salary

Reports of the project

Report of all Employee
Report of all Appraisal
Report of all Department
Report of all Leaves
Report of all Salary
Report of all Project
Synopsis Buy Now:
Synopsis of Employee Management System