Posted By freeproject on April 27, 2017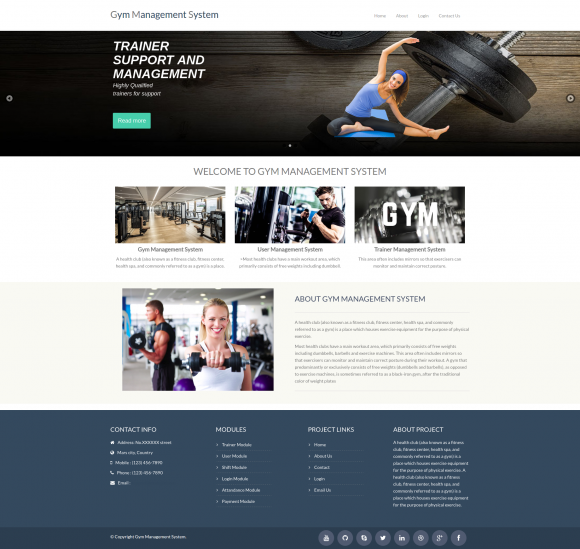 PHP and MySQL Project on Gym Management System
This project Gym Management System has been developed on PHP and MySQL. In these modern days when people all over the world have become so much concerned about their health and diet, it is but obvious that they continually seek out for Gym center. Gym Management System is an easy way to use gym and health gym membership system. It can helps to keep records of members and their memberships, and give permit communication between members. Gym Master is also feature-packed, helping members in the management and growth of health club. This project Gym Management System is very helpful for easy to use gym center. This has membership management system which helps to keep records of members and their membership details. Gym Master is to maintain detailed records of members and their memberships, book classes and trainers, process and track sales, and communicate mass with the right members at the right time Fitness Center Management System is to give permit the customer to store the medicine details, employee details, trainer details, the details of person who join the gym, gym equipment details etc.
I have attached the Screens and demo of the project below the description. Look into for more details.
Functionality performed by Admin user:
These are the functionality performed by the admin users.
Login For Admin
Forgot password for Admin
Edit Profile For Admin
Change Password For Admin
Logout Functionality
Dashboard for Admin User
Manage Attendance

Adding New Attendance
Edit the Exitinng Attendance
View details of the Attendance
Listing of all Attendance

Manage Gym Shift

Adding New Gym Shift
Edit the Exiting Gym Shift
View details of the Gym Shift
Listing of all Gym Shift

Manage Package

Adding New Package
Edit the Exiting Package
View details of the Package
Listing of all Package

Manage Payment

Adding New Payment
Edit the Exiting Payment
View details of the Payment
Listing of all Payment

Manage Trainer

Adding New Trainer
Edit the Exiting Trainer
View details of the Trainer
Listing of all Trainer

Manage System User

Adding New System User
Edit the Exiting System User
View details of the System User
Listing of all System User

Reports of the project Gym Management System

Report of all Attendances
Report of all Gym Shifts
Report of all Packages
Report of all Payments
Report of all Trainers
Report of all System Users
Static Pages and other sections :
These static pages will be available in project Gym Management System
Home Page with good UI
Home Page will contain an animated slider for images banner
About us page will be available which will describe about the project
Contact us page will be available in the project
Technology Used in the project Gym Management System
We have developed this project using the below technology
HTML : Page layout has been designed in HTML
CSS : CSS has been used for all the desigining part
JavaScript : All the validation task and animations has been developed by JavaScript
PHP : All the business and frontend logic has been implemented in PHP
MySQL : MySQL database has been used as database for the project
Apache2 : Project will be run over the Apache2 server
Supported Operating System
We can configure this project on following operating system.
Windows : This project can easily be configured on windows operating system. For running this project on Windows system, you will have to install WAMP or XAMP on your system.
Linux : We can run this project also on all versions of Linux operating system
Mac : We can also easily configured this project on Mac operating system.
Synopsis Buy Now:
Synopsis of Fitness Center Management System