Posted By freeproject on May 7, 2016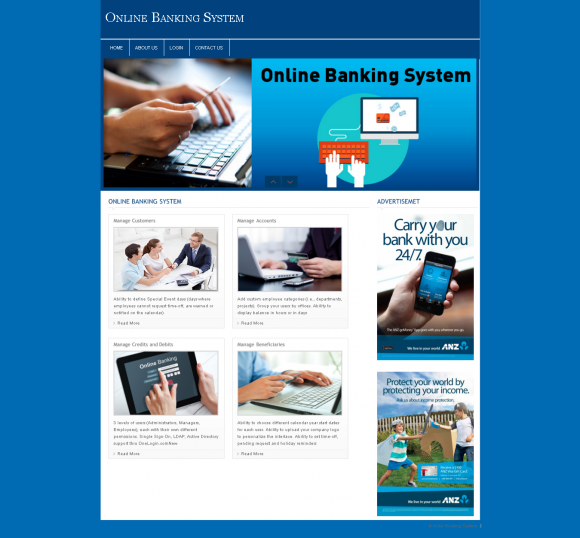 PHP and MySQL Project on Online Banking System
This project Online Banking System has been developed on PHP and MySQL. Here we are providing all the error-free best php projects free download for beginners. The main objective for developing this project is to managing online banking for Balance Enquiry, Funds Transfer to another account in the same bank, Request for cheque books, Mini statements etc. It can help for customers can access the banks website for viewing their Account details and perform the transactions on account as per their requirements. It also provides time to time current status information related to bank. You can check your balance, last transaction, print statements, purchase anything and pay directly from your account with the help of credit card. This application has a good appearance and is very easy to operate. It is very simple and easy to access at PHP. It is a very simple source code. It saves our time and money This project provides a lot of features to manage in very well manner. This project contains a lot of advance modules which makes the back end system very powerful. Our aim is to provide all college and school level free php projects with source code and database for students and we are also provides paid php online projects with source code and documentation of all projects
I have attached the Screens and demo of the project below the description. Look into for more details.
Functionality performed by Admin user:
These are the functionality performed by the admin users.
Login For Admin
Forgot password for Admin
Edit Profile For Admin
Change Password For Admin
Logout Functionality
Dashboard for Admin User
Manage Account

Adding New Account
Edit the Exiting Account
View details of the Account
Listing of all Account

Manage Account Type

Adding New Account Type
Edit the Exiting Account Type
View details of the Account Type
Listing of all Account Type

Manage Branch

Adding New Branch
Edit the Exiting Branch
View details of the Branch
Listing of all Branch

Manage Currency

Adding New Currency
Edit the Exiting Currency
View details of the Currency
Listing of all Currency

Manage Customer

Adding New Customer
Edit the Exiting Customer
View details of the Customer
Listing of all Customer

Manage System User

Adding New System User
Edit the Exiting System User
View details of the System User
Listing of all System User

Manage Transaction Method

Adding New Transaction Method
Edit the Exiting Transaction Method
View details of the Transaction Method
Listing of all Transaction Method

Manage Transaction

Adding New Transaction
Edit the Exiting Transaction
View details of the Transaction
Listing of all Transaction

Manage Transaction Type

Adding New Transaction Type
Edit the Exiting Transaction Type
View details of the Transaction Type
Listing of all Transaction Type

Reports of the project Online Banking System

Report of all Accounts
Report of all Account Types
Report of all Branches
Report of all Currency
Report of all Customers
Report of all System Users
Report of all Transaction Methods
Report of all Transactions
Report of all Transaction Types
Static Pages and other sections :
These static pages will be available in project Online Banking System
Home Page with good UI
Home Page will contain an animated slider for images banner
About us page will be available which will describe about the project
Contact us page will be available in the project
Technology Used in the project Online Banking System
We have developed this project using the below technology
HTML : Page layout has been designed in HTML
CSS : CSS has been used for all the desigining part
JavaScript : All the validation task and animations has been developed by JavaScript
PHP : All the business and frontend logic has been implemented in PHP
MySQL : MySQL database has been used as database for the project
Apache2 : Project will be run over the Apache2 server
Supported Operating System
We can configure this project on following operating system.
Windows : This project can easily be configured on windows operating system. For running this project on Windows system, you will have to install WAMP or XAMP on your system.
Linux : We can run this project also on all versions of Linux operating system
Mac : We can also easily configured this project on Mac operating system.