Posted By freeproject on March 7, 2016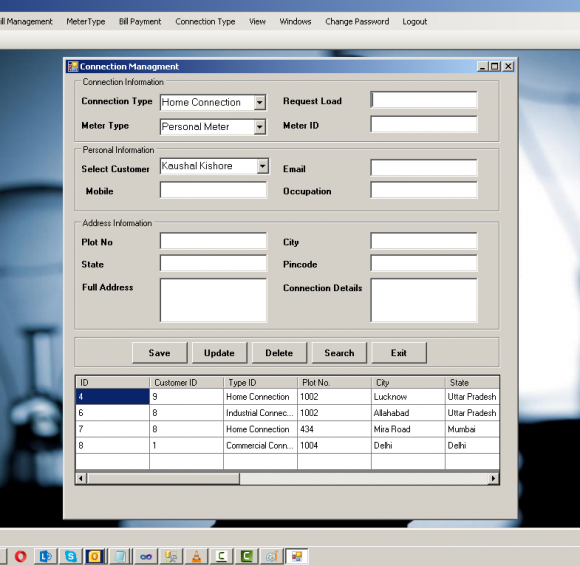 VB.Net Windows Application Project on Electricity Billing System
We have developed this project Electricity Billing System for managing all the operations of the Electricity Department by a computer software system. The main aim of the vb basic codes projects is to develop web application as per student requirements. This projects has capable to perform all the operations needed by electricity department. This project has been developed using VB.Net Windows Application.
I have also attached the screens and the demo video of the project Electricity Billing System below the description, look into it for more clarification of the project
Functionality of the Project Electricity Billing System:
These are the functionality performed by the Project.
Login For Admin
Forgot password for Admin
Edit Profile For Admin
Change Password For Admin
Logout Functionality
Dashboard for Admin User
Manage Project Loading

Adding New Project Loading
Edit the Exiting Project Loading
View details of the Project Loading
Listing of all Project Loading

Manage Main MDI Form

Adding New Main MDI Form
Edit the Exiting Main MDI Form
View details of the Main MDI Form
Listing of all Main MDI Form

Manage Bill

Adding New Bill
Edit the Exiting Bill
View details of the Bill
Listing of all Bill

Manage Connection

Adding New Connection
Edit the Exiting Connection
View details of the Connection
Listing of all Connection

Manage Connection Type

Adding New Connection Type
Edit the Exiting Connection Type
View details of the Connection Type
Listing of all Connection Type

Manage Customer

Adding New Customer
Edit the Exiting Customer
View details of the Customer
Listing of all Customer

Manage Meter

Adding New Meter
Edit the Exiting Meter
View details of the Meter
Listing of all Meter

Manage Meter Type

Adding New Meter Type
Edit the Exiting Meter Type
View details of the Meter Type
Listing of all Meter Type

Reports of the project Electricity Billing System

Report of all Projects Loading
Report of all Main MDI Forms
Report of all Bills
Report of all Connections
Report of all Connection Types
Report of all Customers
Report of all Meters
Report of all Meter Types