Blood Bank Management System Project - Download Project Source Code and Database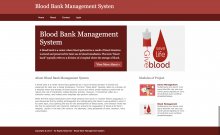 Posted By freeproject on Wednesday, August 22, 2018 - 11:17
Python, Django and MySQL project on Blood Bank Management System is a mini project on python, from which you can learn, how to develop a python projects. We also provide major projects on python for blood bank management system, which will contain less functionality as compare to mini project on python. We provide full Python Projects with Source Code, database and documentation. This is a final year projects for python and Django, which contains a lot of functionality an modules. You can download best python code projects based on their requirements.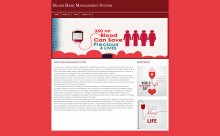 Posted By freeproject on Tuesday, October 24, 2017 - 22:10
This project Blood Bank Management System has been developed on PHP and MySQL. We can develop simple php mysql project for students who want to use php online projects to learn The main objective for developing this Blood Bank Management System project in php is to manage all the information about the donor and organization that are related to donating the blood. This project can also maintaining all the information pertaining to blood donors, different blood groups available in each blood bank and help them manage in a better way. Here students can get php projects with database free download.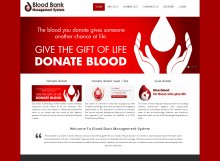 Posted By freeproject on Tuesday, December 15, 2015 - 16:38
In today scenario, the order and requirements of blood is increasing day by day. So we have developed this project for managing all the operations of a Blood Bank Management System. By the help of this project you can manage the Order Details, Blood Details, Sells Details etc. There are two users of website. First is admin user who can manage all the operations of the web application and second one is an unregistered user, who has limited rights. The project fronted has been developed on PHP, business logic has been written in PHP, database is MySQL. This is academic simple php mysql project which student can easily configure it and learn a lot from these. We provide student php mini projects with documentation source code and database of the project.