Train Ticket Booking Management System Project - Download Project Source Code and Database
Our website Freeprojectz.com develops dynamic and very attractive latest php project topics web application as per students requirement according to their final year's guidelines about projects. We provide mostly academic college php mini projects with documentation. PHP Projects are most demanding in the educational sector because objective of a PHP project should be: Smarter, attractive,innovative, user-friendly.. Here we are providing PHP Projects with source code and database.
                Student can choose projects topic from given list and download php online projects with source code. This category consists of PHP Projects for computer Science students, php projects free download with source code, PHP projects with source code free download, Final year PHP Projects.
                  PHP Project is very easy to develop even a student make a small modification. We can develop and provide web application project with source code and database. All PHP Projects is available in our website Freeprojectz.com for students. Students can search and find free download php projects. PHP Projects synopsis and Project report which help the students to give the idea before starting of the project and we provide full php projects with database free download. Some Projects are given in our website Freeprojectz.com. After time by time We develop and introduce new Projects related to PHP.
     Download PHP Projects with source code and database. There are lot of PHP Projects available here for download. These PHP Projects also includes documentation and synopsis. You can submit these project in BCA, MCA, PGCDA etc.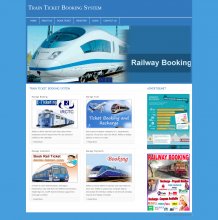 Posted By freeproject on Thursday, November 23, 2017 - 13:15
This Project Train Ticket Booking System has been developed on PHP and MySQL. Here student can search and core php project free download with full source code. Student gets complete project in php free download in our website Freeprojectz.com. A student can easily get php free projects. The main aim for developing this project is to provide details of trains, train routes, departure time of the train. This system can manage train details, tour details and customer details. There are two types of users available in the project, first one is customer and second one is Admin. In this project admin can add new system user, trains, ticket, buses routes etc. Here you can Free download php projects, the project including final year academic application.