Posted By freeproject on February 8, 2017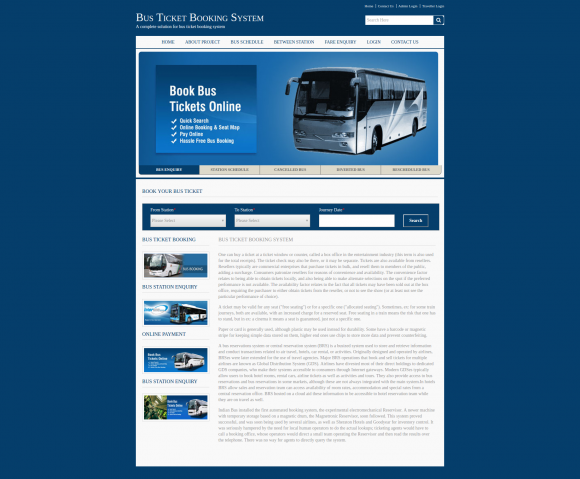 Java, JSP and MySQL Project on Bus Ticket Booking System
This project Bus Ticket Booking System has been developed on Java, JSP and MySQL. The main aim for developing this project is to provide details of buses, agent who are booking tickets for customer's journey which give bus number and departure time of the bus. This system can manage bus details, tour details and customer details. It can also maintain the details of booking time of the seat(s) or collecting time of the tickets, the booking date and the name of agent which is optional, by which the customer can reserve the seats for his journey. The main objective of this project is to provide the better work efficiency, security, accuracy, reliability, feasibilies
Functionality performed by Admin user:
These are the functionality performed by the admin users.
Login For Admin
Forgot password for Admin
Edit Profile For Admin
Change Password For Admin
Logout Functionality
Dashboard for Admin User
Manage Bus Coach

Adding New Bus Coach
Edit the Exiting Bus Coach
View details of the Bus Coach
Listing of all Bus Coach

Manage Bus

Adding New Bus
Edit the Exiting Bus
View details of the Bus
Listing of all Bus

Manage Bus Route

Adding New Bus Route
Edit the Exiting Bus Route
View details of the Bus Route
Listing of all Bus Route

Manage Bus Shedule

Adding New Bus Shedule
Edit the Exiting Bus Shedule
View details of the Bus Shedule
Listing of all Bus Shedule

Manage System User

Adding New System User
Edit the Exiting System User
View details of the System User
Listing of all System User

Reports of the project Bus Ticket Booking System

Report of all Bus Coaches
Report of all Buses
Report of all Bus Routes
Report of all Bus Schedules
Report of all System Users
Static Pages and other sections :
These static pages will be available in project Bus Ticket Booking System
Home Page with good UI
Home Page will contain an JavaScript animated slider for images banner
About us page will be available which will describe about the project
Contact us page will be available in the project
Technology Used in the project Bus Ticket Booking System
HTML : Page layout has been designed in HTML
CSS : CSS has been used for all the desigining part
JavaScript : All the validation task and animations has been developed by JavaScript
JSP : All the front end logic has been written in JSP
Java : All the bussiness logic has been written in Java
MySQL : MySQL database has been used as database for the project
Tomcat : Project will be run over the Tomcat server
Supported Operating System
We can configure this project on following operating system.
Windows : This project can easily be configured on windows operating system. For running this project on Windows system, you will have to install Tomcat 7, JDK 7, MySQL 5.
Linux : We can run this project also on all versions of Linux operating system
Mac : We can also easily configured this project on Mac operating system.
Synopsis Buy Now:
Synopsis of Bus Ticket Booking System