Posted By freeproject on December 24, 2015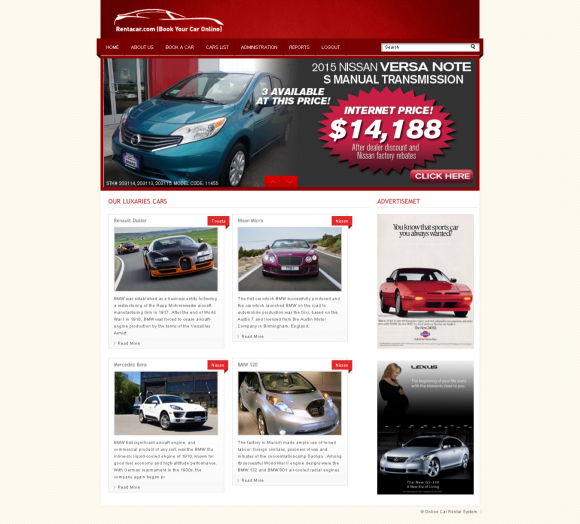 About the project Online Car Rental System
This project Online Car Rental System has been developed in PHP and database is MySQL which runs over the Apache Server. In present scenario every one needs car for rental, so I developed this project Car Rental System, which provides a basic features for booking a car online. There are two type of users exits in system, first one is admin who has full rights and he can perform any type of operation in the project such as adding a new car, reporting etc. The second type of user is customer who can book the car online, who has limited to book the car online only. . We have used PHP for business logic, MySQL as a database, HTML for structure designing, CSS for web page formatting, JavaScript for form validation and animation. Rest of the things I have listed below. I have also attached the project video and screens of this project look into it.
Users of Online Car Rental System
There are two type of users available in the project (Online Car Rental System) :
Customer : With Limited Access
Admin : With full access
Functionality performed by Customer user:
These are the functionality performed by the Customer users.
Registration for Customer
Login For Customer
Forgot password for Customer
Change Password for Customer
Edit Profile For Customer
Search Car
Seeing the list of all Cars
Booking the cars
See the list of all bookings
Functionality performed by admin user:
These are the functionality performed by the admin users.
Login For Admin
Forgot password for Admin
Edit Profile For Admin
Manage Customer

Adding New Customer
Edit the Exiting Customer
View Profile of the Customer
Listing of all Customer

Manage System Users

Adding New User/Admin
Edit the Exiting System User
View Profile of the System User
Listing of all System User

Manage Cars

Adding new cars
View Details of the cars
Listing of all cars
Filter Bills according to Company

Manage Booking

Book new car for customer
Listing of all bookings
Reports/Details for the booking

Reports of the project

Report of all Customer
Report of all Cars
Report of all Booking
Report of all System Users
Static Pages and other sections :
These static pages will be available in project
Home Page with good UI
Home Page will contain an animated slider for images banner
About us page will be available which will describe about the project
Contact us page will be available in the project
Technology Used in the project (Online Mobile Store System)
We have developed this project using the below technology
HTML : Page layout has been designed in HTML
CSS : CSS has been used for all the desigining part
JavaScript : All the validation task and animations has been developed by JavaScript
PHP : All the business and frontend logic has been implemented in PHP
MySQL : MySQL database has been used as database for the project
Apache2 : Project will be run over the Apache2 server
Supported Operating System
We can configure this project on following operating system.
Windows : This project can easily be configured on windows operating system. For running this project on Windows system, you will have to install WAMP or XAMP on your system.
Linux : We can run this project also on all versions of Linux operating system
Mac : We can also easily configured this project on Mac operating system.