Posted By freeproject on July 7, 2017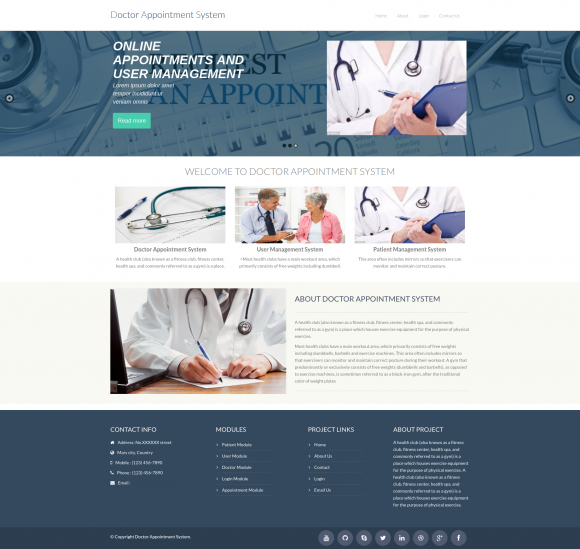 Django, Python and MySQL Project on Doctors Appointment System
This project Doctor Appointment System has been developed on Django, Python and MySQL database. The main aim purpose for developing this project Doctor Appointment System is to provides patient an easy way of booking a doctor's appointment online. This is an online based system that overcomes the issue of managing and booking appointments according to customer's choice or requirements. This projects Doctor Appointment System which appointment are empty, and then the this system will automatically provide appointments to the patient. In this system patient can easily register his profile details, then they can login to the system by entering login user id and password. The patient can take appointment after the login and after login patient can also check appointment details, doctor details, treatment details and prescription details. It can aslo manage all the details of Doctors, Patients, Appointments, Treatment reports, Prescription report, Clinical tests, etc.
Functionality performed by Admin user:
These are the functionality performed by the admin users.
Login For Admin
Forgot password for Admin
Edit Profile For Admin
Change Password For Admin
Logout Functionality
Dashboard for Admin User
Manage Appointment

Adding New Appointment
Edit the Exiting Appointment
View details of the Appointment
Listing of all Appointment

Manage Doctor

Adding New Doctor
Edit the Exiting Doctor
View details of the Doctor
Listing of all Doctor

Manage Patient

Adding New Patient
Edit the Exiting Patient
View details of the Patient
Listing of all Patient

Manage System User

Adding New System User
Edit the Exiting System User
View details of the System User
Listing of all System User

Reports of the project Doctor Appointment System

Report of all Doctors
Report of all Appointments
Report of all Patient
Report of all System Users
Synopsis Buy Now:
Synopsis of Doctor Appointment System