Posted By freeproject on February 23, 2016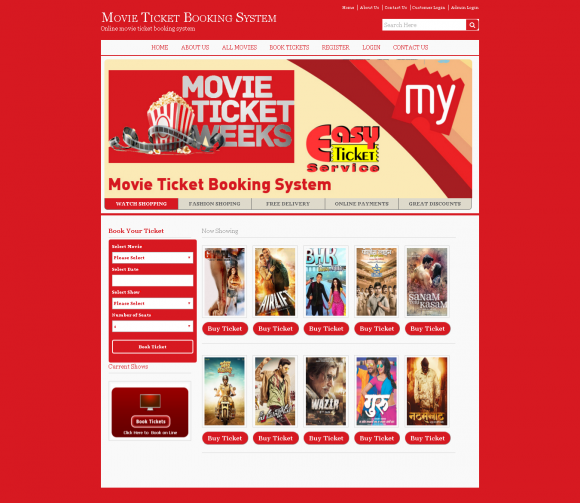 Java and JSP Project Movie Ticket Booking System
This project is aimed at developing a ticket reservation system for Cinema Halls. The Ticket Reservation System is an Internet based application that can be accesses throughout the Net and can be accessed by anyone who has a net connection. This application will automate the reservation of tickets and Enquiries about availability of the tickets. This application includes email confirmation for the tickets. This is one of the important features of our system. By examining the existing system on the internet, we found that there is no such function available at this moment, so we try to include it in our system. To protect the benefit of the cinema, we will not give the money back to the customer, instead the customer has to visit cinema hall for further process. So, the customer can get the money from the cinema hall. Hence both the customer and the cinema can sort out further matter
I have attached the Screens and demo of the project below the description. Look into for more details.
Functionality performed by Admin user:
Users of Online Movie Ticket Booking System
There are two type of users available in the project :
Customer : With Limited Access
Admin : With full access
Functionality performed by Customer user:
These are the functionality performed by the Customer users.
Login For Customer
Registration of Customer
Change Password for Customer
Edit Profile For Customer
View all Movies
Search/Filter Movies
Book Movie Tickets
Online Payment of Movie Tickets
Show his booking history
Logout Functionality
These are the functionality performed by the admin users.
Login For Admin
Edit Profile For Admin
Employee

Add Employee Information
Edit Employee Information
Listing of Employee
Assign role to Staff to Admin, Staff
Deleting the Employee

Movie Type Management

Add Movie Type Information
Edit Movie Type Information
Listing of Movie Type
Deleting the Movie Type

Movie Management

Add Movie
Edit Movie
Listing of Movie
Searching of Movie

Movie Show Management

Add Movie Show
Edit Movie Show
Listing of all Movie Show

Audi Management

Add Audi
Edit Audi
Listing of all Audi

Movie Certificate Management

Add Movie Certificate
Edit Movie Certificate
Listing of all Movie Certificate

Movie Language Management

Add Movie Language
Edit Movie Language
Listing of all Movie Language

Customer Management

Add Customer
Edit Customer
Listing of the Customer

Report of all Movies
Report of all Movie Type
Report of all Movie Shows
Report of all Movie Certificate
Report of all Audi
Report of all Movie Language
Report of all Employee
Static Pages and other sections:
These static pages will be available in project
Home Page with good UI
Home Page will contain an animated slider for images banner
About us page will be available which will describe about the project
Contact us page will be available in the project
Technology Used in the project:
We have developed this project using the below technology
HTML : Page layout has been designed in HTML
CSS : CSS has been used for all the desigining part
JavaScript : All the validation task and animations has been developed by JavaScript
PHP : All the front end logic has been written in JSP
MySQL : MySQL database has been used as database for the project
Apache2 : Project will be run over the Apache2 server
Supported Operating System
We can configure this project on following operating system.
Windows : This project can easily be configured on windows operating system. For running this project on Windows system, you will have to install Tomcat 7, JDK 7, MySQL 5.
Linux : We can run this project also on all versions of Linux operating system
Mac : We can also easily configured this project on Mac operating system.
Synopsis Buy Now:
Synopsis of Movie Ticket Booking System