Flight Ticket Booking System Project - Download Project Source Code and Database
Subscribe our YouTube channel for latest project videos and tutorials Click Here

Booking tickets has now an as easy task with the emergence of computer operated flight ticket booking system project. It is automate software developed for managing various activities related to flight ticket booking. It will provide users an interface where they could book their tickets online. It will contain all information related to number of tickets available for a particular destination. Number of tickets already books, details of economy class and business class tickets, Etc. The customers could easily book the type of tickets based upon their needs.
Flight Ticket Booking System Project will also help improve the overall productivity of airline businesses by automating different functions. It also helps to overcome the drawbacks of the current system. Flight Ticket Booking System Project will play a key role in minimizing manual work and errors.
Easy flight ticket booking
All records of tickets categories
Help in managing airline affairs
Overcome the old procedures
Easy information refreshing
Backup information

Flight Ticket Booking System Project will keep track record of online booked tickets, tickets available, and other important details related to flight tickets. It deals with the recording and processing Employee data so that the executives can easily manage the organizational operations.

Flight Ticket Booking System Project is being used in a lot of organizations as it has vast applications. Using this system the mangers would get rid of manual time-consuming activities related to ticket booking. Moreover, a manual procedure for ticket booking becomes ineffective as it requires the utilization of a lot of resources; so a computerized method would be favourable in terms of cost as well as time consumption.

It is right to say that it is an ultimate tool that can efficiently record, maintain, and manage ticket booking affairs.
Latest Flight Ticket Booking System Project Source Code and Database
All Flight Ticket Booking System Project Topics Project Source Code Download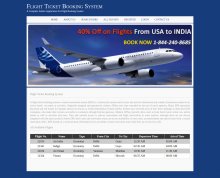 Posted By freeproject on Tuesday, September 10, 2019 - 14:32
Java, JSP and MySQL Project on Flight Ticket Booking System Static Pages and other sections : These static pages will be available in project Flight Ticket Booking System Home Page with good UI Home Page will contain an JavaScript animated slider for images banner About us page will be available which will describe about the project Contact us page will be available in the project...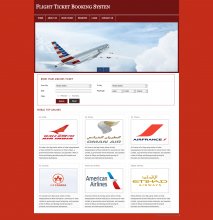 Posted By freeproject on Saturday, February 23, 2019 - 10:27
PHP and MySQL Project on Flight Ticket Booking System I have attached the Screens and demo of the project below the description. Look into for more details. Modules and Description of Flight Ticket Booking System With Email Project: Customer Module : The main objective of this module is provide all the functionality realted to customers. This Flight customer module is the main module in...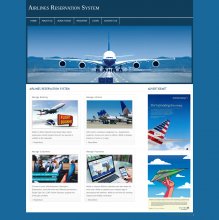 Posted By freeproject on Tuesday, February 5, 2019 - 18:00
PHP and MySQL Mini Project on Flight Booking System This project Flight Booking System has been developed on PHP and MySQL. We are providing php online projects with source code for students. The main purpose for developing this project Flight Booking System project in PHP is to provide all the information related flights. Flight Booking System Project in PHP is to providing all the information...