Online Furniture Shop Project - Download Project Source Code and Database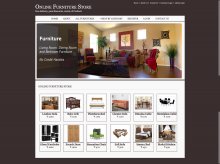 In present era, the importance of Online Furniture Store is growing up day by day, user needs a simple interface to order Furniture online, this project Online Furniture Store fullfils all the requirements of user and it provides an easy interface to navigate. We have used Java, JSP and MySQL to developed the Online Furniture Store, which provides interface for searching and ordering Furniture online. We have simplified the flow of Furniture ordering in this project, so if a person wants to buy Furniture then he can easily order online on some clicks only. Also, we have implemented filters so customer can choose category from Type, Company, Payment etc. This major Java Online Furniture Store provides online interface and the customers can easily place the order of Furniture on few clicks. This are various features available in Online Furniture Store. As this online application enables the end users to register to the system online, select the Furniture items of their choice from the menu list, and order Furniture online. We have best collections of online java projects with source code and database.
The Online Furniture Store is based on ordering of the Furniture online. This Online Furniture Store allows the user to select the desired Furniture from a list of available menu items. The customer can easily place orders for the Furniture items of their choice. For ordering the Furniture customer needs to register into the system with their details and after the registration, customer can filtered out the Furniture according to the Type, Company, Payment, Order, he will add the Furniture into the cart and make payment. Students can select easy java projects topic from given list and easily download java projects with source code.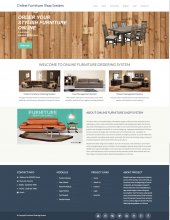 Posted By freeproject on Tuesday, April 24, 2018 - 11:44
This Project Online Furniture Shop has been developed on PHP and MySQL. The main aim of this project on Online Furniture Shop Project in Php is to manage the details of Customers, Furniture, Order etc. There are two types of user in this project first one is admin, second one is customer. Admin can manage category, customer, furniture, order, system user etc. Customer can manage their orders, order receipt, payment, item cart etc. Here you can free download php projects, the project including final year academic application and also get php projects free download.